FEG had "Crisis Management" seminar for K-1 and HERO`s fighters on Nov 28.  FEG recently had scandals by fighters and decided to educate fighter to be smart fighters.  Masaaki Miyamoto has been procecuted for possession of drugs and traffic violation.  Hiromi Amata was arrested for street fighting.  
In this seminar, lawyers explained the disadvantage of street fighting.  A president of a security company, who used to be a police officer, explained the principles to avoid a crisis with the Yakuza.  The message was not to be upset, do not hide, do not lie and do not be afraid of running away.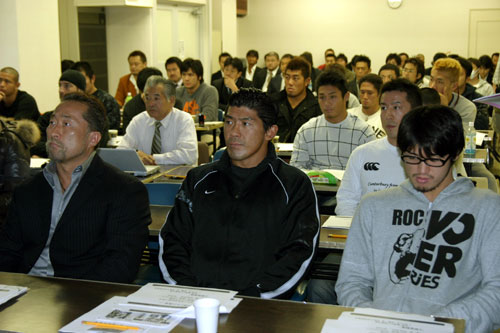 After this seminar, Musashi answered questions and said I don`t get upset often and apologize immediately if something happens.  Fighters should not fight in the street but only in the ring.
Mr. Tanikawa said he would like to hold this seminar once a year.