Akihiro Gono debuted
 in UFC 78.  His style is Jujitsu and kickboxing.  He fought in PRIDE bushido and Pancrase in Japan and defeated
Tamdan McCrory
in UFC 78 tonight.
He updated his blog from NJ.  He usually feels a lot of pressure on the day of the fight and cannot eat anything, but he felt fine today and could eat a lot.  His weight is 176lb this morning.  His fight starts 20:10.  He appears in the first fight from blue corner.  He said he will not stay in this position and will be a top fighter in UFC.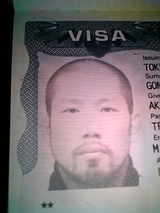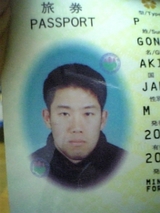 his passport & visa photo
His contract with UFC is 4 fights. UFC was the first organization which offered a contract after PRIDE and he signed up without hesitating. He had said he would be a Japanese Sensation in UFC at the inverview on 25 Sep.
at the interview on 25 Sep